What is the best way to pass the ECCouncil CEH v10 312-50v10 exam? (First: Exam practice test, Second: Lead4pass ECCouncil expert.) You can get free ECCouncil 312-50v10 exam practice test questions here. Or choose: https://www.lead4pass.com/ec-council.html Study hard to pass the exam easily!
Table of Contents:
Latest ECCouncil 312-50v10 google drive
[PDF] Free ECCouncil CEH v10 312-50v10 pdf dumps download from Google Drive: https://drive.google.com/open?id=1MCgCu5a23fnYbpdrNnSX2lZSsIwBLrcU
Certified Ethical Hacker | CEH Certification:https://www.eccouncil.org/programs/certified-ethical-hacker-ceh/
A Certified Ethical Hacker is a skilled professional who understands and knows how to look for weaknesses and vulnerabilities in target systems and uses the same knowledge and tools as a malicious hacker, but in a lawful and legitimate manner to assess the security posture of a target system(s). The CEH credential certifies individuals in the specific network security discipline of Ethical Hacking from a vendor-neutral perspective.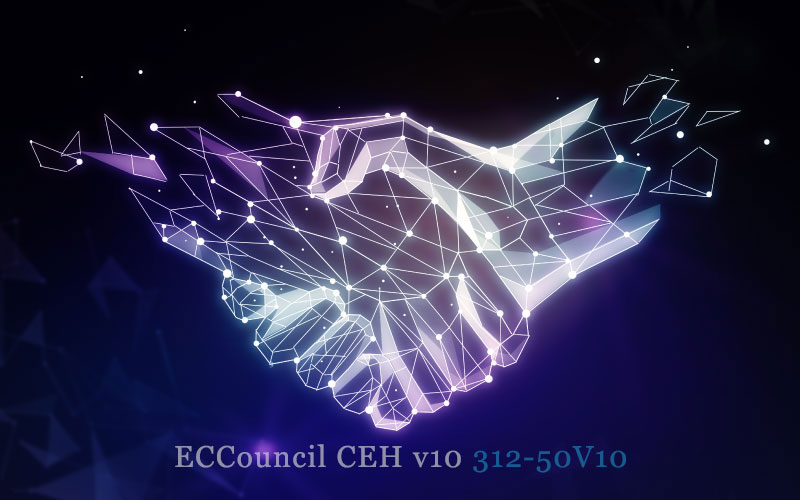 Latest updates ECCouncil 312-50v10 exam practice questions
QUESTION 1
You are analysing traffic on the network with Wireshark. You want to routinely run a cron job which will run the capture
against a specific set of IPs – 192.168.8.0/24. What command you would use?
A. wireshark –fetch \\'\\'192.168.8*\\'\\'
B. wireshark –capture –local masked 192.168.8.0 —range 24
C. tshark -net 192.255.255.255 mask 192.168.8.0
D. sudo tshark -f\\'\\'net 192 .68.8.0/24\\'\\'
Correct Answer: D
QUESTION 2
What is the broadcast address for the subnet 190.86.168.0/22?
A. 190.86.168.255
B. 190.86.255.255
C. 190.86.171.255
D. 190.86.169.255
Correct Answer: C
QUESTION 3
XOR is a common cryptographic tool. 10110001 XOR 00111010 is?
A. 10111100
B. 11011000
C. 10011101
D. 10001011
Correct Answer: D
QUESTION 4
If there is an Intrusion Detection System (IDS) in intranet, which port scanning technique cannot be used?
A. Spoof Scan
B. TCP Connect scan
C. TCP SYN
D. Idle Scan
Correct Answer: C
QUESTION 5
Darius is analysing logs from IDS. He want to understand what have triggered one alert and verify if it\\'s true positive or
false positive. Looking at the logs he copy and paste basic details like below:
source IP: 192.168.21.100
source port: 80
destination IP: 192.168.10.23
destination port: 63221
What is the most proper answer.
A. This is most probably true negative.
B. This is most probably true positive which triggered on secure communication between client and server.
C. This is most probably false-positive, because an alert triggered on reversed traffic.
D. This is most probably false-positive because IDS is monitoring one direction traffic.
Correct Answer: A
QUESTION 6
Which type of scan is used on the eye to measure the layer of blood vessels?
A. Facial recognition scan
B. Retinal scan
C. Iris scan
D. Signature kinetics scan
Correct Answer: B
QUESTION 7
An attacker is using nmap to do a ping sweep and a port scanning in a subnet of 254 addresses. In which order should
he perform these steps?
A. The sequence does not matter. Both steps have to be performed against all hosts.
B. First the port scan to identify interesting services and then the ping sweep to find hosts responding to icmp echo
requests.
C. First the ping sweep to identify live hosts and then the port scan on the live hosts. This way he saves time.
D. The port scan alone is adequate. This way he saves time.
Correct Answer: C
QUESTION 8
Which of the following areas is considered a strength of symmetric key cryptography when compared with asymmetric
algorithms?
A. Scalability
B. Speed
C. Key distribution
D. Security
Correct Answer: B
QUESTION 9
The Open Web Application Security Project (OWASP) testing methodology addresses the need to secure web
applications by providing which one of the following services?
A. An extensible security framework named COBIT
B. A list of flaws and how to fix them
C. Web application patches
D. A security certification for hardened web applications
Correct Answer: B
QUESTION 10
Which of the following is an example of IP spoofing?
A. SQL injections
B. Man-in-the-middle
C. Cross-site scripting
D. ARP poisoning
Correct Answer: B
QUESTION 11
Which of the following attacks exploits web age vulnerabilities that allow an attacker to force an unsuspecting user\\'s
browser to send malicious requests they did not intend?
A. Command Injection Attacks
B. File Injection Attack
C. Cross-Site Request Forgery (CSRF)
D. Hidden Field Manipulation Attack
Correct Answer: C
QUESTION 12
When you return to your desk after a lunch break, you notice a strange email in your inbox. The sender is someone you
did business with recently, but the subject line has strange characters in it. What should you do?
A. Forward the message to your company\\'s security response team and permanently delete the message from your
computer.
B. Reply to the sender and ask them for more information about the message contents.
C. Delete the email and pretend nothing happened
D. Forward the message to your supervisor and ask for her opinion on how to handle the situation
Correct Answer: A
By setting up an email address for your users to forward any suspicious email to, the emails can be automatically
scanned and replied to, with security incidents created to follow up on any emails with attached malware or links to
known bad websites.
References: https://docs.servicenow.com/bundle/helsinki-security-management/page/product/threat-intelligence/task/t_ConfigureScanEmailInboundAction.html
QUESTION 13
Defining rules, collaborating human workforce, creating a backup plan, and testing the plans are within what phase of
the Incident Handling Process?
A. Preparation phase
B. Containment phase
C. Recovery phase
D. Identification phase
Correct Answer: A
Related 312-50v10 Popular Exam resources
Lead4Pass Year-round Discount Code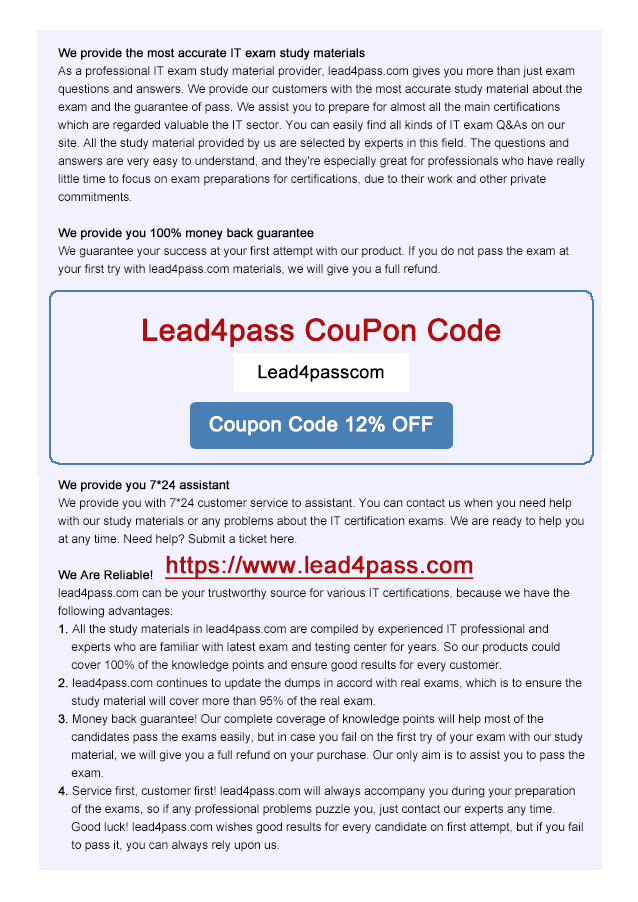 What are the advantages of Lead4pass?
Lead4pass employs the most authoritative exam specialists from ECCouncil, Cisco, CompTIA, IBM, EMC, etc. We update exam data throughout the year. Highest pass rate! We have a large user base. We are an industry leader!
Choose Lead4Pass to pass the exam with ease!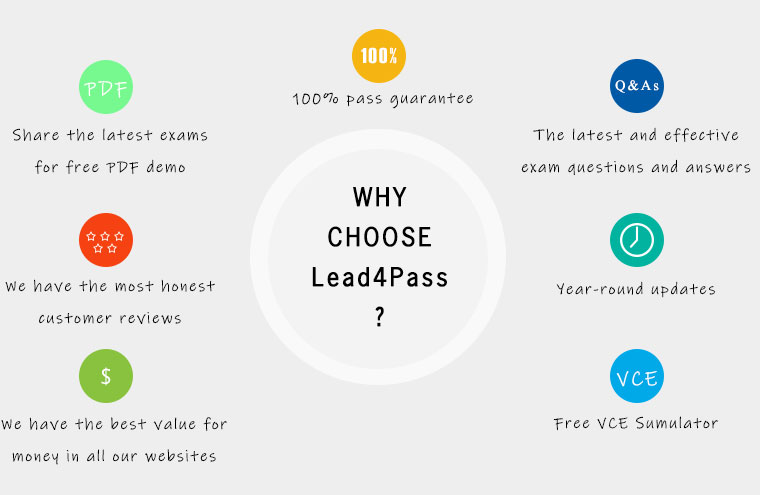 Summarize:
It's not easy to pass the ECCouncil CEH v10 312-50v10 exam, but with accurate learning materials and proper practice, you can crack the exam with excellent results. https://www.lead4pass.com/312-50v10.html provides you with the most relevant learning materials that you can use to help you prepare.